The following is a guest blog by Elena Harman. Elena Harman, PhD is the CEO of Vantage Evaluation and the author of The Great Nonprofit Evaluation Reboot: A New Approach Every Staff Member Can Understand. She pushes everyone around her to think bigger about what evaluation can be, and how it can help improve our communities.
 "How do I know if my volunteer engagement strategies are working? I keep looking at our retention numbers and I don't understand why some people stay with us and why some don't." This was my first conversation with Hannah, a volunteer program manager at a local nonprofit addressing food insecurity. Hannah was passionate about the ways volunteers support and further her organization's mission and was dedicated to recruiting and retaining high-quality volunteers to that end. But the information she was collecting from her volunteers and about her engagement strategies was not helping her improve her strategy or volunteers' experiences.
It can feel tricky to get started on an evaluation of your volunteer engagement strategies. All volunteers are different, doing different things in different situations. Volunteers come and go and are involved in different parts of your organization. Some may only give an hour of their time and others may stay involved with your organization for years. It's easy to throw your hands up and say it's too complicated. But it doesn't have to be that way. Here's where I started with Hannah on her journey into evaluation:
Diagram your engagement efforts. Getting clear about what you are evaluating is critical. Pause and articulate what your engagement efforts do and are designed to achieve, even if you think you already know that. Do you think about your volunteer efforts as a stand-alone program or as part of overall organizational strategy to achieve mission? Hannah's interests were focused on the volunteer experience rather than volunteer impact on mission. So, we created a diagram of her volunteer program by mapping out the activities against what she hoped to achieve for the volunteers. If your interest focuses more on how volunteers contribute to achieving mission, consider mapping how volunteer activities fit into overall mission impact.
Clarify your learning questions. Key evaluation questions are the "marching orders" for your evaluation – what do you really want to know when you are at the end of this evaluation process? It is important to get clear about what you want to learn before you start your evaluation efforts. These questions guide everything you do in your evaluation and will ensure your findings are useful. Hannah was interested in three main areas:

Volunteer engagement: Why do volunteers engage with our organization? What strategies are effective at recruiting and retaining volunteers?
Volunteer experience: How do staff engage with volunteers? To what extent are volunteers satisfied with their experience?
Volunteers' role: In what ways do volunteers contribute to our mission?

Match the right methods to your questions. Different key evaluation questions are better suited to different methods. I helped Hannah create an annual volunteer survey aimed at understanding the scope and scale of volunteer satisfaction, training, and effective engagements strategies. Then we did focus groups with volunteers to dig deeper into the "why" and "how" they volunteer and experience the program. We also created activities to collect information from volunteers at their point of engagement at one-time volunteer events. There are a plethora of other strategies you can use to answer your key evaluation questions.
Hannah was able to use evaluation to answer some of the important questions about her volunteer engagement strategies that were keeping her up at night. She had a clearer picture of why volunteers chose her organization and what kept them engaged, which helped her better hone her engagement strategies. The evaluation also illuminated areas where volunteers have a large impact on the functioning and outcomes of organizational programming, which Hannah was able to use to better make a case for more resources for the volunteer program.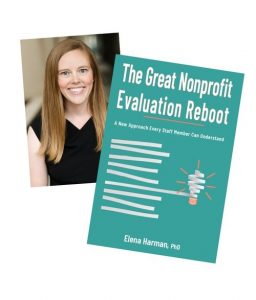 Moving beyond retention metrics can feel tricky at first. But you will love having a deeper understanding of your volunteers and better ways to engage them.
To learn more, check out Elena's new book, The Great Nonprofit Evaluation Reboot: A new approach every staff member can understand and she welcomes you to reach out with questions, too!